Hazard Monitoring Systems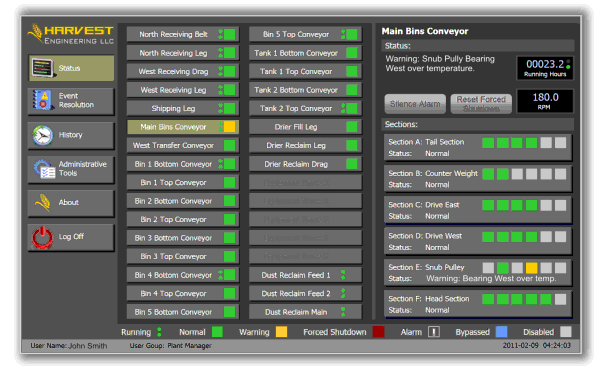 RELIABLE - SIMPLE - COMPLETE - AFFORDABLE
Reliable, yet less expensive. Is that possible? Yes! For years much of the cost of an installed hazard monitoring system has been in piping and wiring. Our hazard monitoring systems were designed to communicate wirelessly from the start. It wasn't an add on or a modification. Consistent operation is ensured with self diagnostics, transmission logging, and redundant receivers. It is now possible to invest in better sensors, better displays, and more intelligent controls, providing system reliability, ease of use, and fewer false alarms. Buy functionality not costly installation.
SYSTEM FEATURES
Lowest Installed Cost
All status at a glance
Multi-point ambient temperature compensation
Bearing temperature monitoring
Leg alignment monitoring
Conveyor belt alignment monitoring
Slow down / under speed monitoring
Plug switch monitoring
Real-time information
Accountability
Full integration with your controls, your network, the web
Security
Wear detect sensors and self diagnostics
Better protection - fewer false alarms
Exceptional moisture resistance
History logs and printable graphs
Scalable, add more transmitter nodes at any time
Serviced and sold by Harvest Engineering LLC
Full Insta-Link Advanced Hazard Monitoring systems product listing coming soon. Call for information and pricing.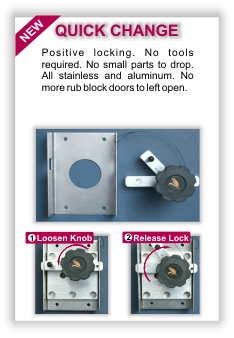 Positive locking. No tools required. No small parts to drop. All stainless and aluminum. No rub block doors left open.